"The DaaS (Device as a Service) solution offered by Lenovo relies on a lease-based model so we don't have to spend millions of dollars in devices and equipment. Instead, a system of monthly fees ensures that company operations are as flexible as possible." – Mr Chou Heng-Lun, Chief Operating Officer, Taiwan Taxi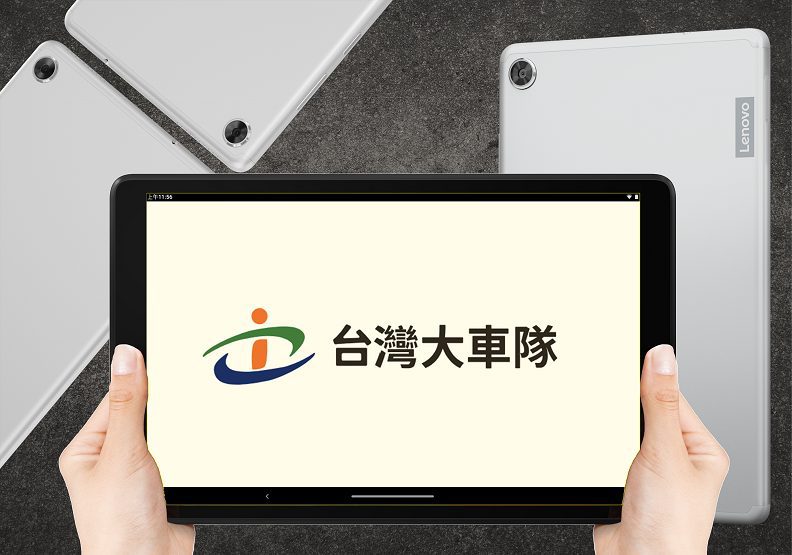 Taiwan Taxi is Taiwan's leading taxi dispatch company, operating 22,000 taxis across the nation and holding 24% market share. In addition to a hotline and mobile application, the company offers taxi booking devices located at pick-up points in key locations such as hotels, department stores and offices. These devices provide passengers with a convenient one-click function that enables them to call a cab with just a few simple steps. However, with the advent of online ride hailing apps, Taiwan's taxi market experienced a period of intense competition. With these strong competitive forces at play, Taiwan Taxi teamed up with Lenovo to integrate software, hardware, and services to fully upgrade their existing one-click taxi booking services to a more competitive system.
Ideal solution for managing traditional taxi booking devices remotely
In the early years, Taiwan Taxi relied heavily on 3G signals to monitor the status of their taxi booking devices. However, with 3G services experiencing frequent loss of connection and malfunctions, the company was unable to remotely monitor the real-time condition of their devices. They relied instead on customers' feedback to dispatch service personnel for on-site repairs or replacements, a process that demands considerable resources and time.
The burden of time and labor costs, combined with inconsistent quality, made it challenging for Taiwan Taxi to expand its one-click ride booking services while managing its current network of over 3,000 devices nationwide. In the past, Taiwan Taxi had been procuring hardware and software from different vendors. Mr. Chou Heng Lun, Taiwan Taxi's Chief Operating Officer shared, "If we encountered issues, the hardware dealers would put the blame on the software dealers, or vice versa. It was impossible for us as customers to identify the root cause of the problem. But our partnership with Lenovo has helped us solve all these problems!"
Lenovo's one-stop solutions offer a comprehensive range of services
Lenovo's solution was delivered to Taiwan Taxi's internal team through a single point of contact. The solution included Lenovo tablets, delivered under the "Device-as-a-Service" (DaaS) model, and a range of other services. This service model serves as a perfect replacement for the existing devices used to provide traditional taxi booking services, addressing the entire process lifecycle from delivery to installation. The Lenovo solution also covers after-sales education and maintenance and provides support for the development of customized software for device management. "It would be time consuming and cost intensive if our own IT personnel were to develop such a platform for our enterprise. Lenovo exhibited great professionalism in its service processes and surprised us by completing the overall deployment earlier than expected," said Mr. Chou.
Lenovo also provided customized services. For instance, tablets installed in buildings for taxi booking were being used to access the internet or for other personal purposes by members of the public. To address this, Lenovo developed a screen lock function in the ride booking application to prevent users from misusing it, perfectly addressing this problem.
In addition, Lenovo's solution ensures maximum flexibility by providing a full range of software and hardware management services, together with offline and online technical support. For example, Taiwan Taxi has adopted remote management to maintain its one-click ride booking devices. This enables the team to measure, manage, and troubleshoot obstacles in real-time, perfectly addressing previous pain points, and implementing zero-contact management.
New subscription-based solution guarantees maximum financial planning and flexibility
With the service sector taking a big hit from COVID-19, it has become imperative for companies to implement flexible financial planning and control costs. Mr. Chou shared, "Lenovo's lease model guarantees maximum flexibility for our corporate operations. Instead of spending millions of dollars on purchasing all the required equipment, we can take full advantage of a system that is based on our actual needs and charges a monthly fee."
Mr. Chou confidently predicts that once the new one-click taxi booking project goes live, it will grow the volume of ride bookings by 30%. He also observed that maintenance workers can now devote more time and effort into developing new taxi booking points and expanding the company's existing network.
In this post-pandemic era where technology has become increasingly important, a crisis can serve as an opportunity for businesses to improve and grow. With an ever-evolving market environment, companies today can succeed and build long-term, sustainable growth by working with technology partners like Lenovo, and embrace their digital transformation.